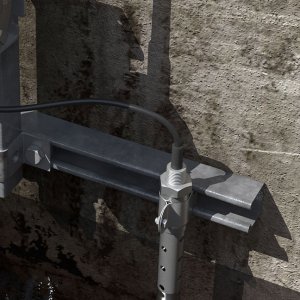 For sumps that collect water and/or hydrocarbon product spills, it is important to know when they start to fill with water, how full they are, and if any hydrocarbon product found its way inside, which would indicate a leak somewhere nearby.
Detectable Conditions
Water Height
Vibration events
Temperature
Hydrocarbon spills
Frozen Sump
Overview
A Syscor sump monitoring system would look a lot like this 2 sump example:
Example explained: In each sump are two Syscor HCDW Hydrocarbon Detector Probes. These probes measure temperature, water height, acceleration, and hydrocarbon presence. They interface with a PCU-X01 Sensor Hub mounted up to 33ft/10m away. The Sensor Hub communicates using the mesh radio protocol WirelessHART with a Gateway located in an electrical shed nearby. The Gateway is the physical access point to all of the data collected from the devices in the mesh network. The access protocol is Modbus TCP or Modbus RTU. This is conveniently linkable to a DCS/SCADA system.
Features
Sump-Mount Devices:
Liquid height sensor
Accelerometer
Hydrocarbon detector (with redundancy)
Temperature sensor
Battery pack (10+ years)
WirelessHART
Intrinsically safe, Ex ia
WirelessHART Gateway:
Modbus TCP
Modbus RTU
Configurable update rate
Product Page Links