PCU-X01 WirelessHART Sensor Hub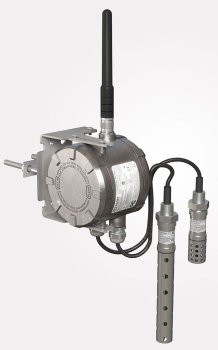 Overview
Syscor's PCU-X01 Sensor Hub provides battery-power and WirelessHART communication for up to two of Syscor's Hydrocarbon Detector Probes. The Sensor Hub, HCD Hydrocarbon Detector Probe, and Hydrocarbon Detector Probe with Water Level are essential components of the HC-Tracker safety system for integrity monitoring of petroleum equipment.
Applications:
Pipelines
Well pads
Production tanks
Water bodies
Piping flanges
Tank mixers
Sumps
Highlights:
Hazardous location compliance: ATEX, IECEx, CSA
Intrinsically Safe and deployable in Zone 0, Class 1 Div. 1 environments
Integrates seamlessly with any standard WirelessHART network
Operating Temperature: -40°C to +60°C [-40°F to +140°F]
Ingress Protection: IP67, Type 4X
Stainless steel 316 enclosure
10+ years of battery life depending on application and update rate

Accessories
Configurations
The Sensor Hub can be equipped with one or two HCD and/or HCDW Probes. Sensor Probes may be screwed into the Sensor Hub, or attached via cable.

The 19Ahbattery pack provides 10+ years of power depending on application and update rate.
With the Universal Mounting Bracket, the Sensor Hub can be mounted via u-bolt, screws, or magnets.
Documents

PCU-X01 Sensor Hub Spec Sheet

PCU-X01 Sensor Hub Installer Reference

WirelessHART Device Variables


WirelessHART Device Description (.dd) File - Contact Syscor to request

CAN/USA Intrinsic Safety


IECEx Intrinsic Safety


ATEX Intrinsic Safety
Learn More
WirelessHART
Micro-Electrical-Mechanical Systems (MEMS)
Antennas
Lithium Thionyl Chloride Batteries