HCD Hydrocarbon Detector Probe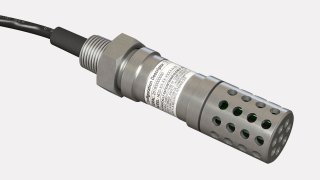 Overview
The HCD Hydrocarbon Detector Probe detects the presence of hydrocarbons (butane and heavier) using patented Polymer Absorption (PA) Sensor technology. The HCD Probe also senses temperature and acceleration/vibration. The HCD Probe must be connected to a PCU-X01 Sensor Hub or a PCU-X11 Inclinometer for power and communications.
Applications
Above and below ground equipment:
Piping flanges
Tank mixers
Sumps
Pipelines
Well pads
Production tanks
Water bodies:
Rivers
Streams
Lakes
Reservoirs
Ocean
Aboveground storage tank
(AST) floating roofs:
Highlights
Hazardous location compliance: ATEX, IECEx, CSA
Intrinsically Safe and deployable in Zone 0, Class 1 Div. 1 environments
Integrates seamlessly with any standard WirelessHART network
Hydrocarbon detection (butane and heavier) on contact when above ground, below ground, and within water bodies (including ice)
Operating Temperature: -40°C to +60°C [-40°F to +140°F]
Ingress Protection: IP68, Type 4X
Enclosure: Stainless steel 316
Made with Syscor's Polymer Absorption (PA) Sensor technology
Power supplied from battery packs connected to the PCU-X01 Sensor Hub or PCU-X11 Inclinometer (10+ years battery life)
Accessories & Options
Use of magnets and other standard hardware for precise mounting if not screwed directly into the PCU-X01 Sensor Hub or PCU-X11 Inclinometer sensor ports (Remote mounting)
Sensor probe cable length options: 1m (3 feet), 2m (6 feet), 3m (10 feet), and 10m (33 feet)
Configurations
One or two HCD Hydrocarbon Detector Probes may be directly attached to the Sensor Hub or Inclinometer or remotely attached via cable of up to 10m (33ft) length

Depending on application, the HCD Probes may be mounted with standard mounting hardware (e.g. strut channel), with magnets, attached to Syscor's Floating Roof Mounting Bracket, or enclosed within Syscor's Stackable Monitoring Well.