PCU-X00 WirelessHART Repeater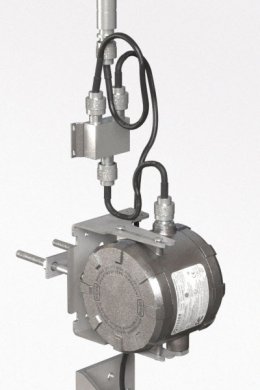 Overview
Syscor's battery-powered PCU-X00 Repeater acts as a RF mesh network extender for WirelessHART products. This is useful in situations where WirelessHART products are out of range or cannot communicate due to a physical obstruction. Not for use with external sensor probes.
Applications:
Primarily WirelessHART field devices monitoring petroleum infrastructure.
Highlights:
Hazardous location compliance in Europe and North America
Intrinsically Safe and deployable in Zone 0, Class 1 Div. 1 environments
Integrates seamlessly into any standard WirelessHART network
Operating Temperature: -40°C to +60°C [-40°F to +140°F]
Ingress Protection: IP67, Type 4X
Stainless steel 316 enclosure
10+ years of battery life depending on application and update rate
Network Topology
The Repeater's place within a WirelessHART network is as a communications-only node within the mesh network alongside data gathering nodes such as Sensor Hubs and/or Inclinometer.
Repeaters may be installed where a gap exists in the network but no data gathering is needed, or as a common point of connection for a collection of otherwise isolated data gathering nodes (e.g. connecting floating roof mounted nodes to the outside network via a repeater on the tank rim)

Accessories
Configurations
Documents

PCU-X00 Repeater Spec Sheet

PCU-X00 Repeater Installer Reference

WirelessHART Device Variables


WirelessHART Device Description (.dd) File - Contact Syscor to request

CAN/USA Intrinsic Safety


IECEx Intrinsic Safety


ATEX Intrinsic Safety
Learn More
WirelessHART
Micro-Electrical-Mechanical Systems (MEMS)
Antennas
Lithium Thionyl Chloride Batteries